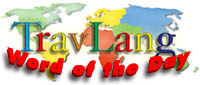 Today's word is: Please

Register to receive travlang's word a day via e-mail!
(Change your registration.)

You can learn more of any of these languages from our Foreign Languages for Travelers site!



The past few words were:
The main Word of the Day page is updated every Monday through Friday.
© 1995-2008 travlang online, inc. All rights reserved.
webmaster@travlang.com

The TRAVLANG
Word of the Day:
"Please"

Click on a word below to hear it spoken.

| | |
| --- | --- |
| Afrikaans | Asseblief |
| Albanian | Ju lutem |
| Amharic | Ibakkih (m), Ibakkish (f), Ibakkwon (respect) |
| Arabic | Min Fadilak |
| Armenian | Hadjiss |
| Asturian | si fai'l favor |
| Azerbaijani | - Zæhmæt olmasa |
| Basque | Mesedez, Arren |
| Bengali | Onugraha kore |
| Bosnian | Molim vas |
| Breton | Mar plij |
| Bulgarian | Ako obichate |
| Cantonese | m goi; ching |
| Catalan | Si us plau |
| Chipewyan | Aysonttay-heeley whoo |
| Cornish | Marpleg |
| Creole | Souplé, Tanti |
| Croatian | Molim |
| Czech | Prosím |
| Dagaare | Nang |
| Danish | Vær så venlig |
| Dutch | Alstublieft |
| English | Please |
| Esperanto | Bonvole |
| Estonian | Palun |
| Eurish | Querem |
| Farsi | Kh'hesh Mi'ko'nam |
| Finnish | Pyydän |
| French | S'il vous plaît |
| Frisian | Asjebleaft |
| Galician | Se fai o favor |
| Georgian | tu sheidzleba |
| German | Bitte |
| Greek | Parakalo' |
| Gujarati | kRipayaa |
| Hawaiian | Hó`olu, `Olu`Olu |
| Hebrew | be'vakasha |
| Hindi | kRipyaa |
| Holooe | Chhián |
| Hungarian | Kérem |
| Icelandic | Vinsamlegast, Takk |
| Ido | Me pregas, voluntez ... |
| Indonesian | Tolong |
| Interlingua | Per favor |
| Irish | Más é do thoil é, Le do thoil. |
| Italian | Per favore |
| Japanese | Douzo |
| Korean | Pu-di, Che-bal |
| Latin | Sis, Quaeso |
| Latvian | Lu-dzo |
| Lithuanian | Pras^au |
| Luganda | Mwattu |
| Malaysian | tolong |
| Mandarin | qíng |
| Marshallese | Jouij |
| Mazahua | por favór |
| Norwegian | Vær så snill |
| Occitan | Te prègui, vos prègui (formal), siuplet |
| Polish | Prosze, |
| Portuguese | Se faz favor |
| Brazilian Portuguese | Por favor |
| Quechua | Allichu |
| Romanian | Vã rog |
| Russian | Pazhaluysta |
| Serbian | Molim te |
| Sesotho | Ako...hle |
| Sinhala | Karuna-ka.ra.la |
| Slovak | Prosím |
| Slovenian | Prosim |
| Spanish | Por favor |
| Swahili | Tafadhali |
| Swedish | Var så god; Var snäll och; Tack |
| Tagalog | Pakisuyo |
| Thai | ka-ru-na |
| Tswana | Ka kopo. |
| Turkish | lütfen |
| Ukrainian | proshu |
| Vietnamese | Xin vui lòng |
| Welsh | Os gwelwch yn dda |
| Wolof | Baal ma |
| Xhosa | Nceda |
| Yiddish | bite |
| Zulu | uxolo |