Free Spanish CD-ROM
(19 More Free Lessons!)





(Click for more info)

We're so sure you'll be back to buy our Complete CD-ROM Course that we're giving you this Free CD-ROM with 19 Free lessons that are not available on the website. To get your copy, you just pay $6.95 for shipping and handling in the US or $9.95 for international orders!
Complete Visual Link Spanish™
Language Course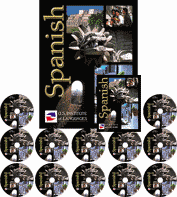 (Click for more info)

The complete Visual Link Spanish™ course contains over 200 interactive lessons, games, quizzes, and activities for your computer. It also includes 10 Audio CD's to review in your car or CD player, a Pocket-Sized Spanish Conversation Manual, and a Travel Case for the CD's.