Learn Over 50 Foreign Languages on the Internet
SAN JOSE, CA -- The internet is literally bringing people from around the globe closer together. But to really communicate with others, it helps to know a little of their language. A web site which provides free lessons in over 50 different languages, from Afrikaans to Zulu, is travlang's Foreign Languages for Travelers.
Foreign Languages for Travelers aims at giving users the tools for basic communications while traveling. If you find yourself in Brazil, you'll like being able to ask "Onde é o quarto de banho?" (Where is the bathroom?). Audio clips recorded by native speakers ensure you will be understood. Quizzes also accompany each section to test how much information you retain. A unique quality of Foreign Languages for Travelers is that it not only includes the widely-spoken languages, but many less common ones as well such at Latin, Catalan, and even Esperanto. And the site can be used by non-English speakers by allowing users to select which language they speak and which language they would like to learn.
travlang's award-winning "Foreign Languages for Travelers" web site is found at: http://www.travlang.com/languages/ It is part of the larger travlang site, which includes on-line translating dictionaries, a word of the day e-mail service, European driving regulations, a worldwide hotel database, and links to everything needed to plan your next vacation or business trip.
About travlang:
Dr. Michael C. Martin created Foreign Languages for Travelers in 1994 while he was a physics graduate student in New York. After the popularity of his Foreign Languages for Travelers web pages began to overwhelm the university computer they were located on, he founded travlang. "The world-wide-web by its very nature crosses cultural boundaries," says Michael, now president of travlang. "With its built-in sound and graphics capabilities, the WWW was a natural platform for these language tutorials." He continues to maintain the majority of travlang's content, while still performing experimental physics research at Lawrence Berkeley National Laboratory, California.
###
Media representatives can find travlang's press releases, including graphics in electronic form at http://www.travlang.com/press/.
Graphic available for use in publications:
(Click on the graphic to obtain the image in its own window.)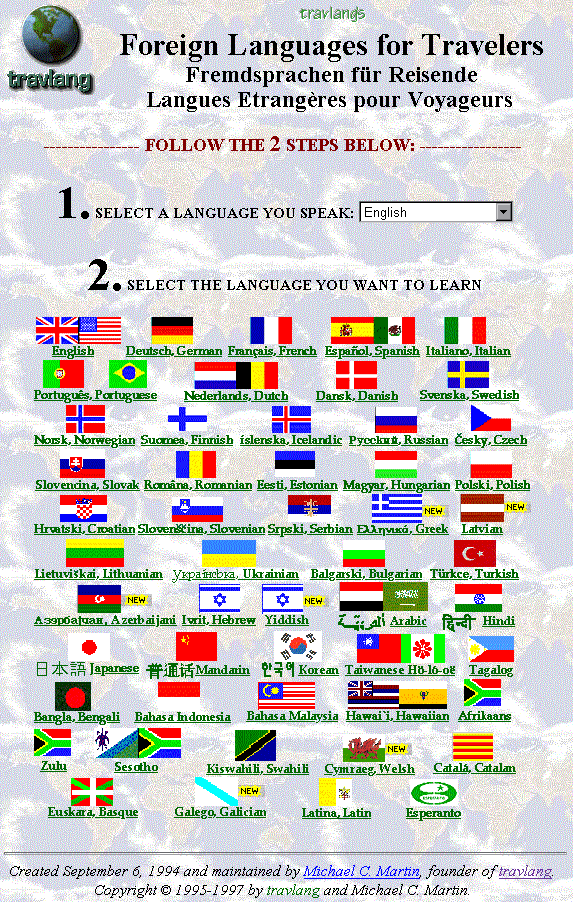 Back to travlang's Press Releases.
Travlang Electronic Translators --- Travlang Downloadable Language Courses --- Travlang Language Store --- Discount Travel --- Airport Parking
© 1995-2010 Travlang Online, Inc. All rights reserved. webmaster@travlang.com
---
Instructions for In-Text Copy and paste the In-Text Ad code into your web page between the and tags.