More about the Euro
The Euro,

is the new currency unit for 12 countries in the European Union (Austria, Belgium, Germany, Greece, Finland, France, Ireland, Italy, Luxembourg, The Netherlands, Portugal, and Spain). It became official for financial institutions on Jan. 1, 1999. It went into official circulation on Jan. 1, 2002. It is has notes of

500, 200, 100, 50, 20, 10, and 5, and coins of

2, 1, and 50, 20, 10, 5, 2, 1 Euro Cents. More information is availalbe at: Euro.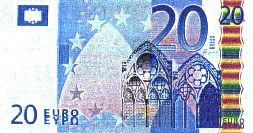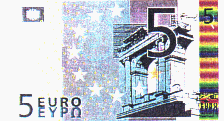 Special Drawing Right
The SDR (special drawing right) is an international reserve asset created by the International Monitary Fund in 1969 and allocated to its members to supplement existing reserve assets. The value of the SDR is determined daily on the basis of a basket of five currencies: the U.S. dollar, the German mark, the French franc, the Japanese yen, and the Brittish Pound sterling. More information is available from the IMF web site.