Also see our
Greek Pronunciation Guide
.
---
Greek is officially spoken in:
Greece and Cyprus.
---
There is an English <-> Greek Dictionary available on the web, and they also have Learn Greek on the Internet with over 100 lessons. Another set of Grek lessons is at Greek through the Internet. A CD-Rom teaching Greek by Anotek is avalable called Read and Speak Greek, and more Greek learning software is at Lily Technology. To go somewhere and learn Greek, try the International Association of Language Centres.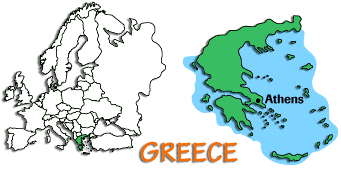 For more information on Greece, see GoGreece.com, Greece Travel Guide and its Athens Survival Guide, Hellas On Line, Phantis Greek Search Engine, City.Net Greece, and Matt's Greece Travel Guide.

The Greek translations, graphics, and sound files were provided by GoGreece - Your Internet Guide to Greece. This Greek language section is copyright © 1997 travlang and GoGreece.



Back to the Foreign Languages for Travelers page.
Travlang Electronic Translators --- Travlang Downloadable Language Courses --- Travlang Language Store Discount Travel --- Airport Parking
Created by Michael C. Martin and by travlang. Copyright © 1995-2006. The help of many people is gratefully acknowledged. While we try to ensure all translations are correct, travlang cannot be held responsible for their use or any consequences of their use. Please use our comments form to send us any suggestions, corrections or other correspondence.
© 1995-2006 Travlang Online, Inc.. All rights reserved. webmaster@travlang.com
---

---
Script: Footer: Cannot open file
The footer file "footer.txt" not be opened. Please make sure that it exists and it is readable.
Please e-mail us and tell me the details of what you did and what browser you are using so I can fix the bug!