Note:
there are a wide range of Creoles spoken throughout the Caribbean, with sometimes contraditory differences. For these web pages, we attempted to select words that would be recognizable to most speakers, but not all variations are listed. The selection process took into account 1) spelling taken from some widely accepted scholars in the field, and 2) the broadest usage of the word or phrase.
---
Caribbean Creole (Lesser Antillean Creole French) is spoken in Martinique, Guadeloupe, Dominica, Grenada, and St. Lucia (other similar but distinct forms of Creole are spoken in Haiti, St. Thomas, Guyana, Trinidad, and Lousiana).
---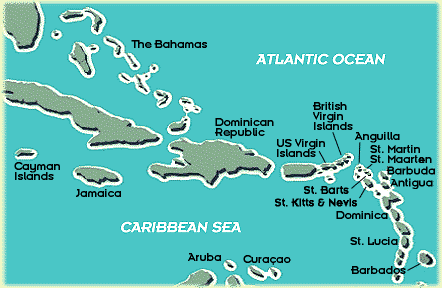 For more information on Creole languages, see The Creolist Archives, Creole for Beginners, and St. Lucia's Creole.
For more information about the Caribbean, see Caribbean-on-line, Caribbean.com, and City.Net Caribbean.




Back to the Foreign Languages for Travelers page.
Travlang Electronic Translators --- Travlang Downloadable Language Courses --- Travlang Language Store Discount Travel --- Airport Parking
Created by Michael C. Martin and by travlang. Copyright © 1995-2006. The help of many people is gratefully acknowledged. While we try to ensure all translations are correct, travlang cannot be held responsible for their use or any consequences of their use. Please use our comments form to send us any suggestions, corrections or other correspondence.
© 1995-2006 Travlang Online, Inc.. All rights reserved. webmaster@travlang.com
---

---